in the Miskatonic University Library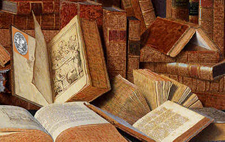 ...

...
WORKS ON ALCHEMY

Artis chemicae principes

Artis auriferae

Theatrum chemicum

Bibliotheca chemica curiosa

Leiden Papyrus

Stockholm Papyrus

Compositiones Lucenses (8th century)

Mappae Clavicula (9th + 12th century)

Collection des anciens alchimistes grecs

Hermes Trimegistus

Much has been attributed to both the Egyptian god Thoth who was embraced by the Greeks as Hermes Thrice Great (Hermes Trimegistus) or the writer who created alchemical and philosophical works under that pseudonym. These works often bridged into the magical. For more about Hermes Trimegistus and links ot works attributed to him go to his page HERE.
...
...
PRE CHRISTIAN

Democraticus (who may be Bolos of Mendes (fl. 1st century B.C.)

Phisika kai mystika

Aristotle (384-322)

Claudius Ptolemy (c 150 A.D.)

Tabrir Al Magesti (Almagest)

...
...
EARLY CENTURIES OF CHRISTIAN ERA

To Leucippus Book V.

Chemistry of Moses

Work of the Four Elements

The Eight Tombs

The System of Iamblichus
...
...
DARK AGES

Zosimus of Panopolis (before A.D. 400)

Synesius (4th century) commentary on Demoncritus

Olympiodorus (6th century) reconciled alchemy with Neoplatonism and the theory of the four elements.

Stephen of Alexandria (7th century) (teacher of Morienus) declared that transmutation was a spiritual process and set it in a Christological persepctive

"Christian philosopher" - (7th century)

"Anonymous philosopher" - (7th century)

Pelagius

John the Archpriest
ARABIAN ALCHEMY

Callisthenes (Prince Khalid ibn Yazid) (d. 704)

Liber trium verborum

Morienus (or Marianos) Byzantine monk who taught Prince Khalid

Balinias (Apollonius of Tyana)

Book of Secrets of Creation (circa 600-750) includes the Tabula smaragdina.

Geber (Jabir ibn Hayyan) (d. 815)

Liber misericordiae (mid ninth century)
One Hundred Twelve (late ninth century)
Liber de septuaginta (late ninth century)
Book of Balances (early tenth century)
Five Hundred Books (mid tenth century)

Abu Bakr Muhammad ibn Zakariyya al-Razi (865-923/924)

Liber secretorum - improved the description and classification of mineral substances, expecially salts of mercury and corrosive liquids.

Turba philosophorum - (The Tumult of the Philosophers) tried to reconcile the basic principle of alchemy with Greek philosophy and the Koran. A version of this work can be found in the Miskatonic University On-line Library

Muhammad ibn Umail al-Tamimi (Senior Zenith)

Epistola solis ad lunam crescentem

Ibn Sina (Avicenna)

Kitah al-Shifa (Book of Remedy) - explained the formation of metals by sulfur and mercury but rejected attempts at transmutation that re not based on reducing metals to the common primal matter ("The artisans of alchemy should know that metallic compounds cannot be chenged if they are not reduced to their primal matter.")
Epistola ad Hasen regem - may or may not be authentic
De anima in arte alchemie (12th cent Spain attrib to Ibn Sina but was certainly influenced by him.)

Ibn Juljul

al Tughra-i (eleventh century)
ARABIC TEXTS HIT EUROPE


Hugh of Santalla (fl. 1119-1151) translated by Balinas

Robert of Ketene (Robert the Englishman) translated

Morienus Feb 11, 1144

Gerard of Cromona translated

Libri de septuaginta
De aluminibus et alibus 12th cent Arabic-Spanish text
Lumen luminum (attrib to Razi, Michael Scott, or Aristotle (under the title Lapidary of Aristotle) a text of Syriac origin with alchemical additions.

Alfred of Sareshel (Alfred the Engishman) translated

Kitab al-Shifa (three chapters concerning metals and alchemy as De mineralibus - these accompany the translatio vetus of Aristotle's Meteorology, that is, books I-III translated from Arabic by Gerard of Cremona and book IV (Sciant artifices alkimie) translated from Greek by Henricus Aristippus.

Secret Book of Artephius

The 12th Century work explains the process of creating the Philosopher's Stone in order to turn base metals into gold. A version of this work can be found in the Miskatonic University On-line Library.

...
...
13th & 14th CENTURY

Michael Scot

Liber introductorius
Liber particularis
Ars alchemie (partly authentic) presents general idea of four spirites (volatile substances), seven metals, relations to the planets. Also explains the procedures for fixing mercury and projecteing it on copper.

Brother Elias of Cortona, minister general of the Franciscans

Richard Anglicus (perhaps Richard of Wendover who died in 1252 or 1256)

Correctorium alchemiae

Quaestiones Nicolai Peripatetici

Lapidary of Aristotle

Albert of Saxony

Liber alchimie Hermes

Albertus Magnus

Meteora De Mineralibus

Albertus Magnus (?)

Semita recta
Alkimia minor

Roger Bacon

Opus terium
Alkimia practica

Roger Bacon (?)

Breve brevarum
Speculum secretorum
Verbum abbreviatum

Pope John XXII

Spondent quas non exhibent divitas pauperes alchymistae (1317)

Jabir ibn Haayan

Summa perfectionis magisterii (pseudo Geber) dated c. 1300

Petrus Bonus

Pretiosa margarita novella - (1330)

Arnald of Villanova

Rosaritus
Ouaestiones tam essentiales
Epistola ad Bonifatium Papam
Epistola ad regem neapolitanum
Tractus parabolicus

John Dastin

Desiderabile desiderium
Verbum abbreviatum
Epistola ad papam Joannem XXII

Walter of Odington

Icocedron

Philips Elephant

Philosophia (enclyclopedia)

John of Pupescicca

De consideratione quinte essentiae (1351-1352) - systemized the technical research on the distillation of alchohol that had been going of for two centuries, associating alcohol with the Aristotelian fifth essence by giving it the incorruptible qualities of the elixir.
Liber lucis - He derived philosophical sulfur frm the quintessesnce if Roman vitriol (iron sulfate), and he also proudced calomel and corrosive sublimate.
De multiplicatione (formerly attrib to Thomas Aquinas)

Lull

Ars magna - disignation of real objects by letters of the alphabet, wheels, diagrams, and so forth
Testamentum - autobiography by followers
Codicillus - by followers
Lapidarius - by followers

Leonard of Maurperg

Notebook of formulas (1394)

Thomas Aquinas (?)

Aurora consurgens (late 14th century) ...
15th CENTURY

Christopher of Paris

Elucidarius (1470's)

Ulmannus

Dreyfaltigkeit (early 15th century)

Joseph Gikatilla.

Joseph Gikkatilla (1248 - c. 1325) was a Spanish cabbalist whose works included Ginas Egoz (pub 1615 on Gematria) as well as Sefer haMeshalim (a cabbalistic view of ethics) as well as the Shaarei Orah and Shaarei Tzedek (both on the 10 divine emanations forming the Tree of Life - the sefiros). -- Mark Daniels <markwigoderdaniels@yahoo.co.uk>
.

16th CENTURY

Johannes Pistorius.

CABBALISTIC TEXTS.
1587. Basle. The very scarce large folio of all the major renaissance texts linking Jewish mysticism and Christianity. Contemporary vellum binding.

WORKS OF MOSES CORDEVERO.
This is a fifteenth century manuscript, attractively bound in red morocco, written on wax paper.

Moses Cordovero (1522-70) was actually a Cabbalist. He lived in Safed in North Palestine and was a famous populariser of Kabbala who lived just before the Ari (Isaac Luria). His works included Pardes Rimmonim (the orchard of Pomegranates) and Tomer Devorah (the Palm Tree of Deborah) as well as commentaries on parts of the Zohar.
-- Mark Daniels <markwigoderdaniels@yahoo.co.uk>

ZOHAR.

1558. Large folio. A complete system of cabbalistic theology.

.
17th CENTURY

Heinrich Khunrath.

AMPHITHEATRUM SAPIENTIAE ETERNAE.
1608. The very rare Magdeburg edition, which is justly referred to as one of the seminal alchemical works. The plates with which it is illustrated are remarkable both for their subject matter and for their execution. This is a superb copy in contemporary vellum.

Guilliame Postel.

CLAVIS.
1643. Fine nineteenth century green morocco binding. Very rare.


Knorr Von Rosenroth.

KABBALA DENUDATA.
1677. Frankfurt.


Jean d'Espagnet

Enchiridion physicae restitutae... [1623]
or The secret work of the hermetic philosophy: Wherein the secrets of nature and art concerning the matter of the philosophers' stone and the manner of working are explained in an authentic and orderly manner. The work of an anonymous author, penes nos unda tagi. [from the 1650 edition of Arthur Dee's 'Fasciculus chemicus: or chymical collections,' translated by Elias Ashmole.] A version of this work can be found in the Miskatonic University On-line Library.
.
18th CENTURY

Jean Jacques Manget.

BIBLIOTECHA MEDICA.
1703. Two volumes. Red morocco Chancery folios. These huge books are especially significant as they are Manget's Dedication copy to Frederick the King of Prussia. The bindings are gold-stamped with the king's royal insignia.


Jean Jacques Manget.

BIBLIOTECHA MEDICA CURIOSA.
1702. Two volumes, folio, contemporary calf, gilt spine. This is the first edition of the most complete collection of alchemical texts ever published, containing over 140 treatises. For the historian of chemistry this is a most important and indispensable work.


SEPHER RAZIEL.

1701. Amsterdam. One of the rarest of all cabbalistic works.


The Sefer Raziel is a work of Practical Kabbalah attributed to the angel with the fiery sword who threw Adam and Eve out of the garden of Eden. I think it appeared in medieval Europe but am not sure. Its the only work of kabbalah I've seen which comes with pretty pictures - mostly of amulets designed to keep away deadly baby-milosting demons.
-- Mark Daniels <markwigoderdaniels@yahoo.co.uk>

FOR ALCHEMY BOOKS ON-LINE SEE THE MISKATONIC UNIVERSITY LIBRARY "GENERAL STACKS CARD CATALOGUE."
FOR ADDITIONAL BOOKS OF AND ON ALCHEMY SEE THE MISKATONIC UNIVERSITY LIBRARY "ALCHEMY STACKS CATALOGUE."
FOR LINKS TO ALCHEMY BOOKS AND INFORMATION ON THE WORD WIDE WEB SEE THE DEPARTMENT OF COMMUNICATIONS "LINKS SYSTEM."

...
...
\





Copyright © 1997, 2002 Miskatonic University Press / yankeeclassic.com, all rights reserved