Novellas:
Seven Seconds of Eternity..........Robert H. Leitfred

Novelettes:
The Heart of Atlantan..........Nictzin Dyalhis
Sea Born..........Edmond Hamilton

Short Stories:
An Adventure of a Professional Corpse: 2. The Blind Farmer and the Strip Dancer..........H. Bedford-Jones
The Kings Do Battle Again..........H. Bedford-Jones [as Gordon Keyne]
Past Tense..........Harry Sivia
The Reward..........Robert Clancy
The Unusual Romance of Ferdinand Pratt..........Nelson S. Bond
The Valley of the Undead..........Helen Weinbaum

Essays/Articles:
It Happened to Me: They Lynched Him, and Then -..........Jack Kytle

Poems:
Enduring..........Maisie Nelson
Temple in Samarkand..........Gerald Chan Sieg
---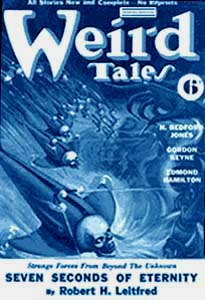 UK Edition Released in 1942

Weird Tales (number 1) circa 1942-43: London: Gerald G. Swan (64pp+, 6¾" x 9¾", artist Ray Quigley) printed on wartime paper stock, a deep grey paper, though in a blue wash rather than full colour.

Contents are as follows:
03--Seven Seconds Of Eternity--Robert H. Leitfred--novella
23--The Valley Of The Undead--Helen Weinbaum--short
31--An Adventure Of A Professional Corpse--The Blind Farmer And The Strip Dancer ---H. Bedford-Jones--short story
39--Heart Of Atlantan--Nictzin Dyalhis--short
49--Enduring--Maisie Nelson--poem
50--Sea Born--Edmond Hamilton--short
64--Temple In Samarkand--Gerald Chan Sieg--poem

Contents page credits last entry as by Maisie Nelson and spells the title as "Temple In Samakand", a verse. The cover borrowed from the US edition, credits Gordon Keyne as a contributor; the UK edition does not include this author.

---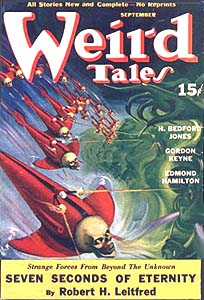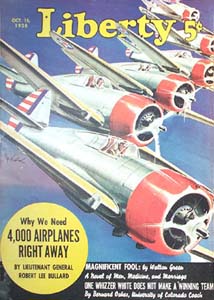 The cover image kind of reminds me of the Liberty Magazine cover of October 15, 1938, just two years earlier. While it's not quite the match that the September 1944 Weird Tales cover shares with an earlier artist's work, this seems to be a case of creative inspiration.