.
WEIRD TALES
January, 1943

Vol. 36, No. 9
Title Issue: MULti-WT0209
Publisher: Weird Tales, New York, NY
Editor: Dorothy McIlwraith
Price: $0.15
Pages: 128
Cover: A. R. Tilburn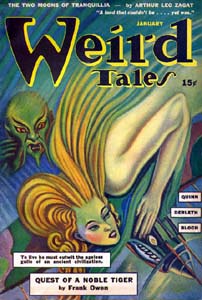 .
.
Novelettes:
The Eager Dragon..........Robert Bloch
He was bequeathed a dragon's egg and thought the whole affair was ridiculous - until the egg hatched.
The Two Moons of Tranquillia..........Arthur Leo Zagat
He desperately wanted to see his son - but perhaps the boy was not to befound in this world

Short Stories:
Bindings Deluxe..........David H. Keller, M.D.
It isn't polite to ridicule a woman. Nor is it at all safe, as you will find out!
McElwin's Glass..........August Derleth
The strange tale of a magician who discovers a sure way of seeing into the past and future - and wishes he hadn't
One-Man Boat..........Alice-Mary Schnirring
Don't sail her alone, they warned, or you'll be shipmates with death
Quest of a Noble Tiger..........Frank Owen
The flyer had fought with great courage against cruel enemies, but never before against such ageless guile
Repayment..........Seabury Quinn
The snakes resent wrong charming - the old man chattered - they will repay thee for this insult!
Say a Prayer for Harvey..........John J. Wallace
He was the little man who was there - anywhere he wanted to be
Seventh Sister..........Mary Elizabeth Counselman
The elders laughed and remarked that nobody believed in conjures or woodooany more - but under a quarter moon, who can tell?
The Statue..........James Causey
An innocent, lovely creation of art is was, with murderous hate in its pink marble heart

Poems:
After an Air Raid..........Dorothy Quick

Articles:
Supersititions and Taboos..........Irwin J. Weill
The Eyrie and Weird Tales Club..........
---
There are two interesting pages in this issue on Superstitions and Taboos, well illustrated. One of the superstitions is to keep a dog from straying...in the old days they scraped the four corners of a table on the upper side--then fed the dog the scrappings. Another favorite method of keeping a dog at home, considered very effective, was to mix small quantities of your own blood with the dogs food..then feed it to him.

.