.
WEIRD TALES
November, 1945

Vol. 39, No. 2
Title Issue: MULti-WT0226
Publisher: Weird Tales, New York, NY
Editor: Dorothy McIlwraith
Price: $0.15
Pages: 96
Cover: Lee Brown Coye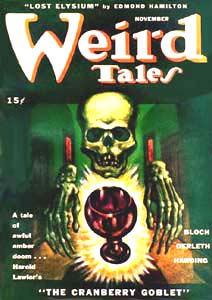 .
.
Novelettes:
Lost Elysium..........Edmond Hamilton
There is a world congruent with Earth but existing on a different plane of vibration, a world of unearthly beauty--and horror!
The Murderous Steam Shovel..........Allison V. Harding
A big steam shovel is stronger than any bull elephant, got a better memory and more killer in 'im!
The Mad Dancers..........Roger S. Vreeland
...Some were prone to delegate the new plague to one of the sub-sciences beneath the dignity of Medicine.

Short Stories:
The Cranberry Goblet..........Harold Lawlor
There are all kinds of macabre secrets in this world--goblins and goblets!
The Fangs of Tsan-Lo..........Jim Kjelgaard
The air was charged with hate and viciousness in its most primitive and elemental form.
The Mirror..........Charles King
See, it was quite evident! The mirror was actually defying him!
Mrs. Lannisfree..........August Derleth
By and by you'll see a figure, white in the moonlight, walking relentlessly toward the sea.
Soul Proprietor..........Robert Bloch
"One human soul, in reasonable condition,to highest bidder.... Owner must dispose of same at once!"

Poems:
Midnight Moon..........Stanton A. Coblentz

Articles:
Superstitions and Taboos..........Irwin J. Weill
The Eyrie and Weird Tales Club
.