.
WEIRD TALES
January, 1950

Vol. 42, No. 2
Title Issue: MULti-WT0251
Publisher: Weird Tales, New York, NY
Editor: Dorothy McIlwraith
Price: $0.25
Pages: 96
Cover: Matt Fox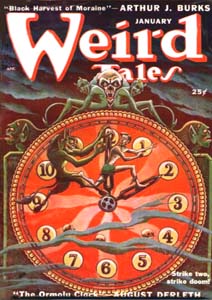 .
.
Novelettes:
Black Harvest of Moraine..........Arthur J. Burks
When the Ice Age retreated, who could know the forces it left bheind to plague and outwit men of the scientific age?

Short Stories:
The Cactus..........Mildred Johnson
The police rout something from another universe, another stratum of existence; the law commanded the supernatural?
Dark Rosaleen..........Seabury Quinn
Was he flesh and blood--an artist's concrete conception of something abstract, tenuous, allegorical?
The Family..........Margaret St. Clair
...flooded by an emotion, even more poignant because he could not be sure if it were anguish or bliss.
In That Same Moment..........Manly Wade Wellman
Conquered time is your doormat, your toy, your pocket piece...
The Last Train..........Fredric Brown
There comes a time in every man's life when he decides to break with the past-how complete the break depends on the man and the state of the world!
The Mask of Don Alfredo..........Mal Bissell
Of the husband and wife, one had died fifty years ago, one only last night. But which...?
The Mysterious Miss Maltra..........Stanton A. Coblentz
Auction sales fascinate a lot of folks; who can resist the "Going, Going, gone!"--even to death?
The Ormolu Clock..........August Derleth
Hatcher felt nothing in his past could account for the mystery; but could a clock have a past?
Outside of Time..........Carroll John Daly
Let it be said everlastingly that the "impossible" of today may well be the commonplace of tomorrow.
The Smiling Face..........Mary Elizabeth Counselman
The deep Brazilian jungle had swallowed up the woman he loved and the man he hated-the crippled explorer could only wait.
The Urbanite..........Ewen Whyte
The terrible, meaningless scream and cry of the City, its endless vibrations, at last have brought forth upon itself this ultimate inevitable product of itself.

Poems:
Sea King's Daughter..........Dorothy Quick
The Vision..........Leah Bodine Drake

.