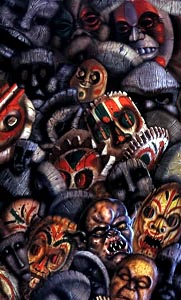 Fiction:
Elvis Died for Your Sins..........Sarah Hoyt
1st line: Mid-afternoon in Eternal Life, the only New Age store in Lythia Springs, Colorado, tended to be quiet.
Heart's Blood..........William F. Nolan
1st line: Remember the shooting at that high school in Roanoke, Virginia, six years ago?
Passing the Narrows..........Frank Tuttle
1st line: The Yocona surged ahead, paddle-wheel churning, cylinders beating like some great, frightened heart.
Tales from Weston Willow..........Ian Watson
1st line: The line-up of ales in the Wheatsheaf Inn wasn't too impressive, so I settled for a bottle of Satzenbrau. Nor was the decor much to speak of.
What You Wish For..........Stephen Dedman
1st line: Roy woke suddenly, and realised that he was still in Mapurtiti. Partly it was the heat--that, and the residual stink from the kangaroo his predecessor had left in the fridge over the Christmas holiday, when the house had been empty and the electricity turned off.

Poetry:
Abduction..........Sam Henderson
Concerning the Fate of Philip.............Darrell Schweitzer
Eldritch..........Melissa Pinol
The Kissing of Frogs..........Bruce Boston
Phobos..........Bruce Glassco
The Place of Skulls..........W. Paul Ganley
Villanelle..........Donald Sydney-Fryer
Features:
The Eyrie
Shadowings..........Douglas E. Winter