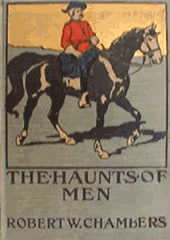 USA 1954
22 Min. sd., b&w, 35 mm.
[n.p.] Carnival Productions
Distributor: Universal Pictures Co., (released 1956)
produced with the cooperation of the University of California at Los Angeles, Dept. of Theatre Arts

A Film by Denis and Terry Sanders

Written and directed by Dennis Sanders
based on the story "Pickets" by Robert W. Chambers

Music by Frank Hamilton

Cinematography by Terry Sanders
Cast:

Barry Atwater
Robert Sherry
Corey Allen.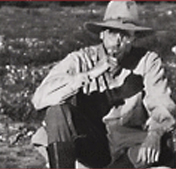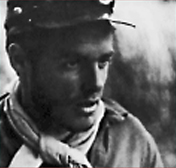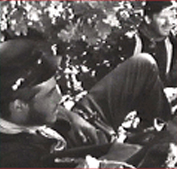 Oscar-winning dramatic short film based on a Robert W. Chambers Civil War story.

Synopsis: Two Union soldiers and a Confederate soldier, facing each other at a battle front, agree on an hour's truce during which they exchange conversation and supplies and join in a mutual salute over the grave of a newly buried Union soldier.

"Pickets." It is about Civil War soldiers on two sides of a river who decide to call a cease-fire for a few hours -- creating a "time out of war."

London Daily Mail: "One of the most imaginative, haunting and satisfying films which have ever been made." London Daily Mail.

AWARDS
Academy Award, Best Short Film
Venice Film Festival, First Prize
British Film Academy, Special Prize
Screen Producers Guild, Intercollegiate Award
Richard Winnington Memorial Award
International Federation of Film Clubs, First Award
Oberhausen Film Festival, Special Award

Synopsis: An interesting look at a moment during the Civil War when soldiers from opposing side share an uneasy truce. ~ All Movie Guide

Time Out of War : A movie adaptation of the story Pickets, appearing in The Haunts of Men , F. A. Stokes Co., N. Y., 1898. The movie was made by Carnival Productions, 1954, and released by Universal Pictures Co., 1956. It was produced with the cooperation of the University of California at Los Angeles, Dept. of Theatre Arts. Information from the Library of Congress: "Two Union soldiers and a Confederate soldier, facing each other at a battle front, agree on an hour's truce during which they exchange conversation and supplies and join in a mutual salute over the grave of a newly buried Union soldier. Written and directed by Dennis Sanders; music, Frank Hamilton; photographer, Terry Sanders. Cast: Barry Atwater, Robert Sherry, Corey Allen." - Larry Loc

"The most powerful argument against war ever filmed."
- London Evening News

"One of the finest 'shorts' ever made... It is about a tiny incident in the American Civil War; a half day's truce between one Southern and two Northern soldiers who are guarding the opposing banks of a river. For taste, for poetic restraint, and as a commentary on the folly of war, it has never been bettered."
- Manchester Guardian